This week I'm not going to focus too much on what I ate, but more on what I made. There are some food pictures at the end. But yesterday, I was too busy cooking to take pictures of what I was eating.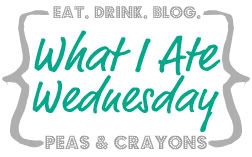 Spaghetti sauce!!!
To peel a tomato, you want a pot of boiling water. Drop in your tomatoes, about two at a time and boil 45 seconds to a minute, some took longer than that. You're good to take it out the pot when you see the skin split. Take the tomato out with a giant slotted spoon and dump into a icy water bath.
The skin will slide right off. Then I quartered and de-seeded, and chopped the tomatoes. If you have stubborn seeds, run the tomato under water to help wash the seeds out. I had about 6 cups of tomatoes, and adjuted the recipe as needed. 
After the onions are cooked, add the tomatoes and spices and cook, cook cook. It took mine about
1 1/2 hours until they were done. 
Of course, it was way too chunky, so it got a ride in the blender, weeeee...and turned orange as a result. whatev
To make scooping easy, I placed a freezer quart bag in a wide mouth mug and dumped in 1 cup of sauce. 1 cup between Andrew and me will probably make two dinners. I don't like drenching my noodles in sauce. After they cooled for a few minutes in the quart sized bags I squeezed all the air out and sealed them. All three small bags went into a labeled gallon freezer bag for extra protection. 
I just had a little taste-it was pretty good, a little sweet (I think from the onions) and needed some more spice. I wasn't sure if frozen spices would get stronger in the freezer, but I didn't want to mess it up. So when I thaw these for cooking, I'll add some more spices while reheating.
Since I have so many tomatoes, this is something I will do again, I would love to not have to buy spaghetti sauce all winter long.
Alright, now to the food I did eat. Breakfast and lunch were pretty much the same as usual. But, I had to talk about some cool stuff. 
Wholly Guacamole! I first saw this product out in Texas and it was sooo good! It's gluten free and has no artificial anything. I finally saw it here in Ohio, but they also had these 100 calorie snack packs. So, cool. They have a bunch of potassium, and avocado is great. It's an easy, energy-packed snack pack...say that 5 times fast. 
Next up: More fake meat. Remember my Smart Sausage from last week? Yummy, well I decided to try their lean ground sausage in one of my favorite dishes. Sausage stuffed acorn squash.
This is a leaner meat, so there are less calories, less sodium, but still has excellent protein and potassium. Cut your squash in half, take out the seeds, form a ball of sausage and stuff into the squash. Cook at 350* for about 55 minutes. After it's cooked, add pepper and a touch of cinnamon.
Delicious! I am so pleased with their products, it smells and tastes like regular sausage. You can also see in red on the package that they don't use any freaky soy beans. I love that! 
Have you guys ever made spaghetti sauce?