I am being really consistent with doing this whole What I Ate Wednesday thing. I am finding that it is keeping me motivated to try to new recipes and be a little more creative with my meals. Sometimes I make a meal and like it so much that I eat it over and over(like oatmeal for breakfast). It is nice to change the pace and incorporate a few new recipes during the week.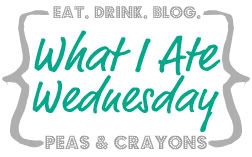 Breakfast: Steel cut oats, strawberries, blueberries, dollop of Greek yogurt.
Lunch: Avocado egg salad in whole wheat pita, berries and iced green tea.
Dinner: Spaghetti squash spaghetti with baby bella mushrooms and spinach.
I bought a spaghetti squash at the store last week and did not want to eat it plain like I normally would. I decided to finally try it as a pasta substitute and it was soooo good. I added garlic to the squash and I think I like it better than pasta.
This avocado egg salad recipe was adapted from Gina's recipe over at
Skinny Taste.
If you have not checked out her blog, do so now. I have tried a lot of her recipes and they turn out great, plus she provides nutrition information!
I changed up my recipe because I like a somewhat different egg salad taste. In mine, I left out the mayonnaise(yuck) and added two kinds of mustard, lemon juice and spices. I also only used four hard boiled eggs, and used the yolk and whites. It made a huge amount, so I will be eating egg salad for the next couple days.
It turned out delicious! I am so glad I saw Gina's post, because I never would have thought to put avocado in my egg salad.
I am going to be doing some travelling over the next couple weeks, maybe I can do an "On the Road WIAW" since eating on the road can be a huge challenge.