After a few weeks on vacation, it was time to get back into the cooking mode. Which means it's time for WIAW with Jenn over at
Peas and Crayons
.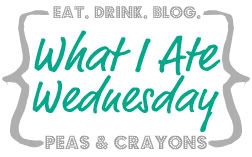 Breakfast: NAKED brand granola with vanilla soy milk.
Lunch: Grilled zucchini, portobello mushrooms and a greek yogurt, horseradish and dill sauce in whole wheat pita with fruit salad on the side.
Dinner: Stuffed eggplant and pasta.
After getting back from Texas I was in desperate need of groceries. I wanted a bunch of fresh stuff so I grabbed spinach, eggplant, zucchini, tomatoes, onions, mushrooms...you get the idea.
In a moment of inspiration, I decided to stuff that cute little eggplant.
Stuffed Eggplant: Slice eggplant in half, scoop out seeds. Don't scoop too close to the sides, you want all the meaty insides. Spray both sides with olive oil cooking spray and coat with pepper and a sprinkle of salt.
In pan saute zucchini, mushrooms and onions. Add spinach until wilted. Spice as desired, I did pepper and garlic.
Add veggies into eggplant boats and bake in oven at 375 for 15 minutes. Add cheese(optional). Bake additional 15 minutes.
While that's cooking make some pasta. Since I had leftover veggies I just tossed the cooked pasta in with the veggies and added a quartered Roma tomato to the mix.
It was kind of delicious.